Ratings & Reviews
These features become available when "Ratings & reviews addon" was enabled. After you enabled addon refresh directory settings page - Ratings & Reviews tab will appear. Each listings level has separate option to enable/disable ratings in this level.
Ratings settings
Users can rate without writing a review - when richtext reviews mode enabled - switching this setting off admin may force users to write a review along with rating.
Only registered users may place ratings - this setting restricts unregistered users to rate listings, when this setting unchecked - anyone can rate any listing. Please note, that when user places new rating, the plugin creates new record with ID of registered member, for anonymous users - the plugin stores their IPs, also the plugin saves cookie in user's browser. User can change his rating later.
Allow users to flush ratings of own listings - when this option was checked - listing owner has ability to flush current rating of his listing.
Allow sorting by ratings - switch on/off sorting by ratings.
Reviews
By default "Reviews or Comments mode" is set to "comments system of installed theme or another plugin".
Reviews or Comments mode:
disabled
comments system of installed theme or another plugin - the plugin uses comments system of your theme or another 3rd party plugins like WordPress Disqus plugin
use simple directory comments - simple comments system of the plugin
richtext reviews - reviewers can place multi-criteria ratings in their reviews and attach images. Reviews place on separate pages, may have HTML body. Guests can place up/down votes for reviews.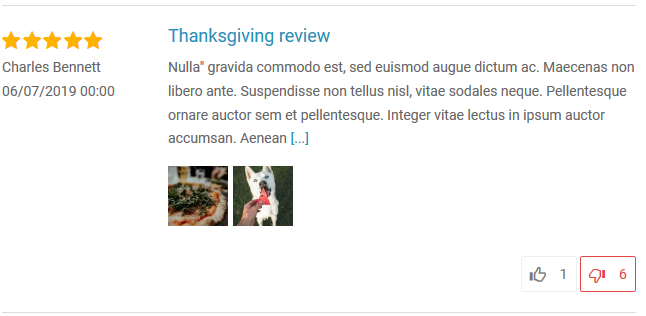 Who can place reviews:
only admins
logged in users (registration required)
users and guests (fill in contact form) - user info form asks user to fill in his name and email fields. After successful submission WordPress creates new user profile. If user with entered email already exists in the system - it isn't required to create new profile and listing will just be assigned with existed user. Later admin may manage and contact new user when needed. For new user registration email with automatically generated password will be sent
do not ask guests to fill in contact form - WordPress creates new anonymous user profile in the system, but no login information will be sent, just because there is no email to send
Enable pre-moderation of reviews - moderation will be required for new reviews.
Enable moderation after a review was modified - after a review was modified its status become pending and it will wait for moderator review.
Number of reviews user can add for one listing - usually users can place one review for each listing.
Number of images allowed to upload in review - leave 0 to disable images.
Enable votes in reviews - guests can place up/down votes for reviews. Also it is possible to sort reviews by best voted.
Ratings multi-criteria - enter each criteria on a separate line.