Directory settings
First of all look at "Directory Admin -> Directory settings" page. There are some separate tabs with own groups of settings.
After successful installation of the plugin generate and enter license information. Generate an Envato API Personal Token and enter Purchase code, follow installation instructions.
General settings tab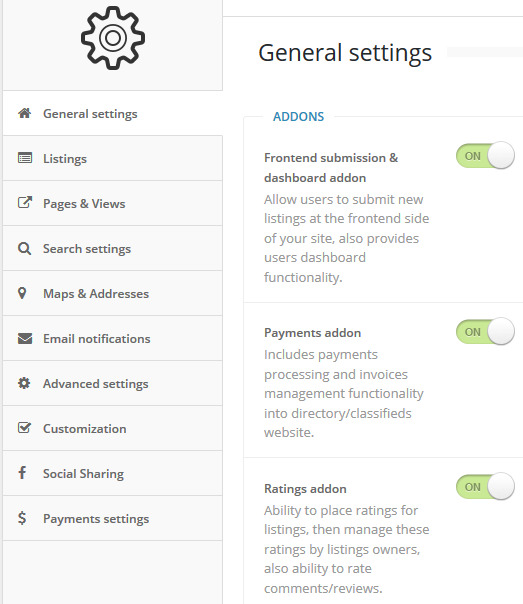 There are 3 available addons, if you do not need unnecessary functionality - do not enable them:
Frontend submission & dashboard addon - allow users to submit new listings at the frontend side of your site, also provides users dashboard functionality.
Payments addon - includes payments processing and invoices management functionality into directory/classifieds website.
Ratings addon - ability to place ratings for listings, then manage these ratings by listings owners.
Refresh settings page after switch on/off any addon.
AJAX Loading
Use AJAX loading - load maps and listings using AJAX when click on search button, sorting buttons, pagination buttons.
Display "Show More Listings" button instead of default pagination - when switched off - default pagination will be used.